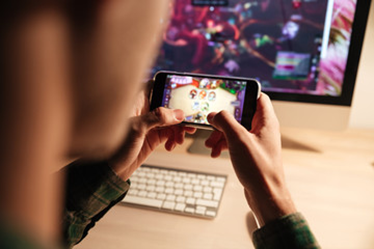 To stay relevant and ensure that it is always keeping the needs and preferences of gamers in mind, PlayEdge needs to consistently evaluate mobile gaming trends. This research gives PlayEdge crucial information that empowers developers to create the most successful mobile games possible. With all of the changes in consumer behavior in 2020, it is no surprise that 2021 has been an interesting year regarding trends for the mobile gaming space. Here, PlayEdge discusses some of the most prevalent trends in 2021 and what they mean for both developers and gamers.
A Renewed Social Focus
During the early stages of the pandemic, multiplayer games served as excellent ways for gamers to stay connected. Now, a year in, PlayEdge acknowledges that players are still looking for way to utilize multiplayer games to have fun with friends. Developers are taking note of this trend in 2021 to create more games that give players more options for engaging with one another. Luckily, there are several ways that they can do so. Focusing on multiplayer games that prioritize in-game collaboration, for example, will likely remain immensely popular in 2021. This comes after the popularity of mobile games such as Among Us, where players work together towards a common goal.
The Growth of In-Game Advertising
In the old days of mobile gaming, advertisements were included within games as pop ups that gamers would hastily close out when given the chance. In the present, mobile games have experimented with ads in ways that either do not interrupt gameplay or incentivize gamers to engage. In-play advertising gives developers the opportunity to access revenue streams, but developers need to acknowledge the importance of doing so in ways that do not detract from the overall experience of the game being played. For example, some developers have begun incorporating more interactive ads that give players access to in-game bonuses. Others have integrated ad space into their games that can be either purchased by other companies or feature ads for other offerings the developer has created. This transition for in-game ads is a win- win for developers and gamers. Advertisers can grow awareness for their products via ad space, reach new audiences, and grow conversations, while gamers get to explore options for new games.
Growth of Hyper-Casual Mobile Games
PlayEdge notes that hyper-casual games have experienced a huge growth in popularity, with the market worth an estimated $2 billion by the end of 2019. With the growth of the space, hyper-casual games quickly became their own genre, and more developers are simplifying their strategies to capitalize on this trend. Hyper-casual games are very accessible for new gamers and take advantage of the fact that many mobile gamers do not typically play for a long time in one sitting. VentureBeat found that hyper-casual gamers watch as much as 2x more ads than other games, downloading up to 10x more games as well. Hyper-casual games are also not very laborious for designers to create, incentivizing them to simplify their process and give them a try.